Choosing life – Leaving self-sabotage behind
Awareness in the present situation
Gathering twice a month in Karilatsi
Starting Sept. 11
and then every second and fourth Saturday
starting at 15.00, about 2 – 3 hours
tea and snack at the end
15,- Euro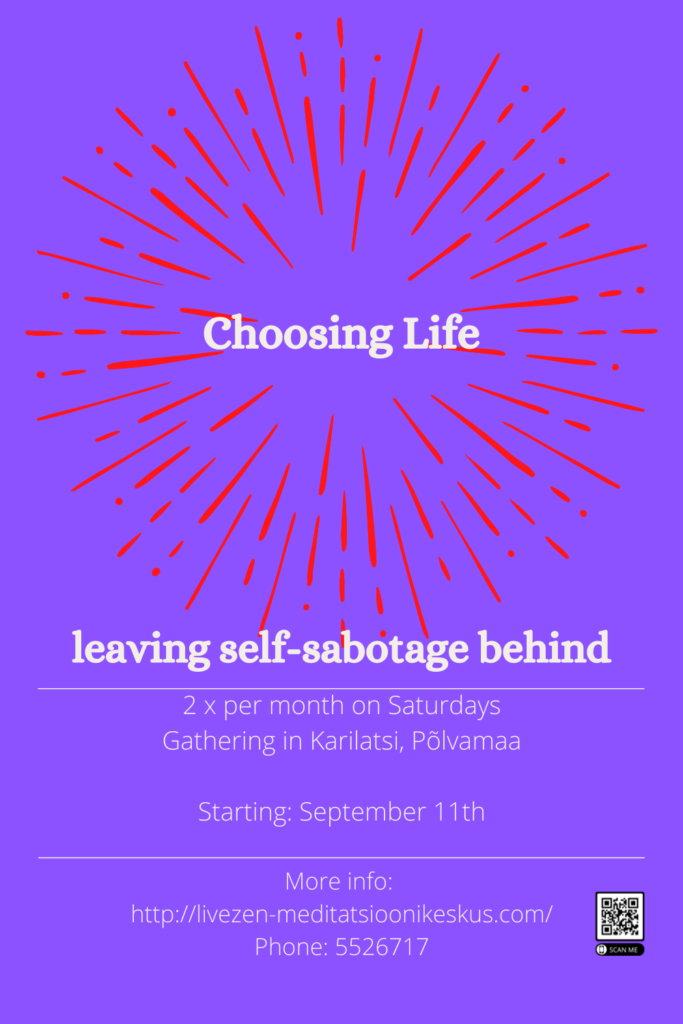 How to navigate through a life that becomes more and more difficult to manage because the outer conditions are changing so fast?
From where to take the energy and calmness to deal with the myriad of problems?
There is no general answer.
Only when the individual is strengthened in his /her trust in his very own capacities, in his willingness and courage to express his very own life force, then there is a chance he uses this life as it is meant to be: a growth in consciousness and an overall, deeply touching understanding of our miraculous journey through space. And with that comes love and relaxation.
We are not here to prove our worth to an imagined society, exhaust ourselves in self-imposed roles. But ususally we are not even aware of the fact that this is what we are doing. We do not have awareness of our own life in the here and now. We are driven by our thoughts, beliefs and assumptions and thereby creating the misery we live in.
To shine some light on our reality we will talk and share and use quiet and active mediations that bring us out of the mind into the more honest reality of our bodies.
Sona is speaking in English, but we will provide Estonian translations to people who do not understand. Sona is also speaking Russian.